2008, 24th february, Trento. A very special moment in our "bio": we met Alan Stivell! After an unforgettable concert we went together to a restaurant and we had the chance to talk with the biggest "Maestro" of the celtic music. Many thanks to Fausto Bonfanti, the organizer of the concert, who introduced us to Alan. Au revoir, master!

Some pictures (click to enlarge).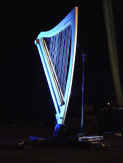 "THE" instrument!


From the right: Fausto Bonfanti, Alan, his guitar player and the violinist.


Again from the right: violinist and staff.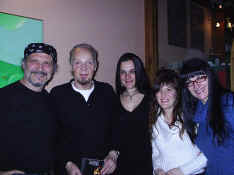 Alan with La Zag.
Playing medieval and Renaissance music in a lively and "folky" way went along with making music of our own. Taking our European roots - melodic and harmonic structures found in early music - and combining them with elements of pop and ethnic music - and here they are: multilingual historical-folk-songs of great appeal with the public.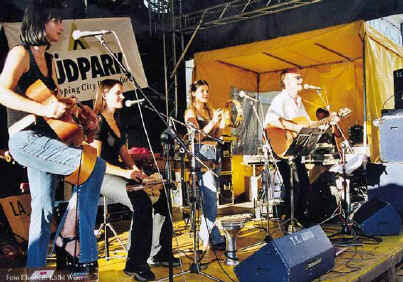 (click to enlarge - 126 KB)
La Zag is:
•Franco Ferrarese:
born 1952 in Bolzano, South-Tyrol, Northern Italy, studies music at the Orff-Institute, Salzburg (Austria), meets his future wife Elfriede, works one year with a Historical Dance Company in London and two years as a teacher at the Music Highschool in Nürnberg, Germany. After his return to Italy and several years of teaching music he now lives on music making with his family band La Zag.
•Elfriede Rungg-Ferrarese:
devoted wife and mother, born in Austria, shares all adventures, musical and not, with her husband Franco.
•Anna Florina Ferrarese:
born 1982 in Merano, South-Tyrol, Northern Italy, after 6 years of classic percussion she is now specialising in ethnic percussion.
•Anna Viola Ferrarese:
born 1985 in Merano, South-Tyrol, Northern Italy, studies violin with maestro Praful U. Mitterstainer.
•Luca Agostini:
born in Trento, Northern Italy, the electric bassman and fiancé of Anna Florina.