For those who don't know it: Ritchie Blackmore, the mythical ex-guitarist of Deep Purple, has founded the new band "Blackmore's Night" with vocalist Candice Night. They are fusing elements of early music and folk with Ritchie's enchanting guitar-sound. We casually knew Ritchie and Candice at the beginning of their Italian tour in January 2000 and after hearing us play, he wanted us as support on his tour. Five concerts all over Italy, everything went on perfectly. The feeling between us was great!

When Ritchie returned to Italy with his band in 2002, he called us again to come with them. There were three shows to do, all open air (on 15th/16th/18th July, unfortunately the second one being cancelled because of non stopping rain). Our 40 minutes opening was a hit with Ritchie's fans who are becoming our fans, too, some of them remembering us from the last tour.

See you, Ritchie and thank you for everything.

Love to Candice and Carole!

In Trento before starting the tour 2000!
(some more photos on tour)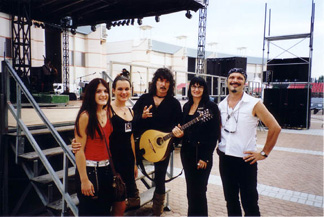 During the soundcheck in Viareggio, 2002